Routine Cholesterol (Lipid) Testing Now Advised for Children/Teens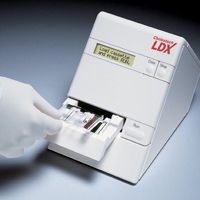 Routine cholesterol (lipid) testing of children during the pre-teen and late teenage years is now advised by the National Institute of Health and the American Academy of Pediatrics. This strategy will help identify children at risk for developing disease of the blood vessels, "heart attack", and stroke as adults. Abnormal cholesterol levels are a major risk factor for these medical conditions.
Cholesterol testing, using a fingerstick blood sample, is now available at Giangreco, Scarano & Taylor Pediatrics. We recommend routine. non-fasting, measurement at eleven and eighteen years of age. Patients who were not tested at these ages should undergo testing at a subsequent visit. Children/teens who have conditions or family history associated with high risk for disease of the blood vessels, "heart attack", and stroke may be tested after fasting (i.e. obesity; hypertension; diabetes; family history of abnormal cholesterol/lipid levels; family history of "heart attack" at a young age; family history of stroke). If you believe that your child may be in a high risk category, or may benefit from cholesterol testing, please contact our office.