2019-2020 "Flu" Vaccines (Supplied by Vaccines for Children) for Patients Insured by Medicaid are Available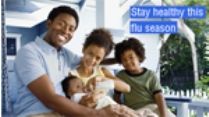 The 2019-2020 influenza vaccine, supplied by the Vaccines for Children program, is now available in our office for patients insured by Medicaid and those with no health insurance. We await shipment of more vaccine for patients with commercial insurance. The Centers for Disease Control and American Academy of Pediatrics recommend that all children six months of age and older receive the vaccine.
Infection with influenza virus is common. The virus is highly contagious, commonly spreading to multiple family members. In the United States, hundreds of children undergo hospitalization, and a few deaths occur, because of influenza infection every year. Influenza infection results in many lost school and work days.
Influenza vaccination significantly reduces the risk of infection and is highly protective against severe infection, hospitalization and death. The vaccine has a strong record of safety and has not been associated with serious side effects. Patients with egg allergy may safely receive influenza vaccine.
Our physicians and office staff are routinely vaccinated against influenza to protect ourselves and prevent spread of the virus to our patients and their families. Please schedule a vaccination appointment soon for your child and/or request the vaccine during an office visit.